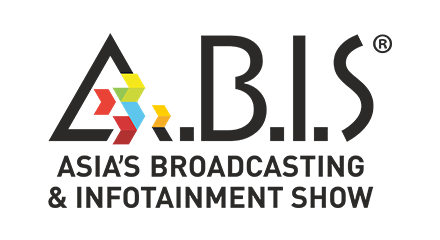 Asia's Broadcasting & Infotainment Show (A.B.I.S) 2023 Cements Its Presence as The Premier Platform for the Broadcasting, Media and Infotainment Industry
Unprecedented turnout of professionals and enthusiasts from across the broadcasting, media, and infotainment spectrum
A hub for networking, display of cutting-edge technology, and knowledge sharing
Content-rich sessions featuring industry experts, thought leaders, and innovators
A.B.I.S. consisting of Broadcast India Show, SCAT India Tradeshow and Content India Show continued to drive the future of the Media and Infotainment Industry at the recently concluded, highly successful 2023 edition which took place from the 8 - 10 October, 2023 at the Jio World Convention Centre, Mumbai.
The 2023 edition had 230+ exhibitors who showcased a diverse range of products and technologies, 500+ domestic and international brands, record-breaking participation from 27,408 unique visitors and 600+ conference delegates over 3 days.
Broadcast India Show witnessed an overwhelming response from industry professionals, exhibitors, and visitors alike. The atmosphere was vibrant with demonstrations of cutting-edge technologies, product launches, and interactive sessions, fostering collaborations, networking opportunities and new relationships.
"A variety of new technologies have been introduced in the Media & Infotainment Industry and VTI is trying to give the best solutions so that we can take the first mover advantage and India as a country can benefit out of it. This year, the Broadcast India Show has crossed expectations with respect to footfall, exhibition size, quality of leads and much more. We have always supported growth and knowledge learning for the industry and how better to support than to support the Industry's Leading Show for Media & Infotainment Industry - The Broadcast India Show!" said Satish K Aggarwal, Managing Director, Visual Technologies India (VTI).
'What's Next in M&E? Poised for the Next Evolution' was the theme of the Broadcast India Conference where the industry's top experts and visionaries shared their expertise on some of the industry's most pressing issues and exciting opportunities.
With the onset of OTT platforms and highly accessible network solutions, the Satellite, CableTV, Broadband and IPTV Industry has grown and transformed by leaps and bounds. New, state of the art and innovative products and solutions were on display at the SCAT India Tradeshow where industry leaders converged under one roof.
"With distribution and networks getting faster, SCAT India TradeShow has also quickly become the premium show for Satellite, CableTV, IPTV, and Broadband. Industry professionals visit the show to see the latest developments and product launches and this gives exhibitors like us an opportunity to meet focussed customers every year." said Devchand Haria, Managing Director, Optilink Networks Pvt. Ltd.
Visitors to both the shows had an exclusive access to the latest technologies and products, breath-taking innovations and unique opportunities to meet and network with businesses and professionals of the industry from all over the world.
The Content Industry in India is growing at a compound annual growth rate (CAGR) of more than 32%. It's expected to reach a value of over $24 billion by 2028! Content India Show aimed to help attendees take advantage of the numerous upcoming opportunities in the evolving content landscape with an impressive line-up of panellists and speakers who shared their learnings, opinions and professional advice over various key topics as also insights vis a vis upcoming trends and growth opportunities.
"Today, there are a lot of opportunities of growth for the industry from a domestic consumption perspective as well as taking our stories to the global platform and shows like this help bring us all together and align us to that common goal and common vision of keeping alive Indian stories and creating Indian content that can reach every corner of the world. Content India Show Conference helps different stakeholders of the ecosystem from creators, producers, financers, the audiences to come together and help take the agenda of the content industry forward in India." said Preeti Vyas, CEO & President, Amar Chitra Katha Pvt. Ltd.
A Hub for Innovation and Collaboration:
Summing up the event, Sonia Prashar, Managing Director, NuernbergMesse India, said, "A.B.I.S 2023 has undeniably solidified its position as the premier platform for the Broadcasting, Media, and Infotainment industry in Asia. With its impressive visitor footfall, enriching conference sessions, and a palpable atmosphere of innovation and collaboration, the show exceeded all expectations, setting the stage for a brighter, more dynamic future for the industry."
Save the date!
The 2024 edition will take place in Mumbai from 17 – 19 October, 2024.
Please visit www.abis-expo.com for further details.
Our Industry Connect platform www.broadcastandfilm.com and www.scatmag.com
About NuernbergMesse India
NuernbergMesse is one of the 15 largest trade fair companies in the world. Its portfolio covers around 120 national and international trade fairs and congresses at the Nuernberg location and worldwide. It is the people, their ideas and products, which have made NürnbergMesse a globally successful trade fair company. Every year, about 35,000 exhibitors (international share: 44%) and up to 1.5 million visitors (international share of trade visitors: 26%) participate in the own, partner and guest events of the NürnbergMesse Group, which is present with subsidiaries in China, North America, Brazil, Italy, India, Austria and Greece (Forum S.A). Worldwide, the NürnbergMesse Group has a network of about 51 representative agencies which are active in over 116 countries. As the Indian representative for the NürnbergMesse Group we assist and support Indian companies in expanding their business into global markets and international companies into the Indian market.
For more information, please contact:
Contact for Exhibition:
Varun Gaba
Portfolio Director
T: +91 22 62165303
E: [email protected]
Pranali Raut
Asst. Director – Projects
T: +91-22-62165313
E: [email protected]
Contact for Broadcast & Film Magazine and Satellite & CableTV Magazine:
Manoj Madhavan
Director – Content and Conference
M: +91 9108232956
E: [email protected]
Contact for Press & PR:
Tasneem Muchhala
Senior Manager – Marcom
T +91 22 62165316
E: [email protected]